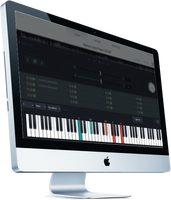 Learn To Play Your Favorite Songs
Simply follow the notes as they magically light up on your screen. Slow them down, loop them, and learn at your own pace.
Learn More
Affirm Financing: If one or more items in your order has an extended ship date, your loan payment(s), including interest, may be due before the merchant ships all of the items. Please note that you may not receive a rebate of any interest that may have already accrued on an amount that later gets refunded.